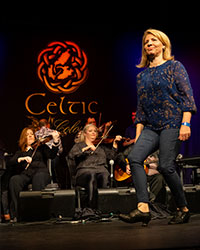 Close to the Floor Encore
When
Occurs on Friday October 14 2022
Approximate running time: 2 hours and 30 minutes
Venue
Event Notes
×
Ticket Price: $45/40/35 Showtime: 7:30PM
It is well-established that dance tradition is an important, if not defining, influence on Cape Breton's traditional music. The rhythm and pace of the tunes is determined by the steps of the dancers. In Cape Breton step dancing, all the movement is below the waist with the arms kept as still as possible. The feet barely leave the floor and the heel is never higher than the toe. This is known as "close to the floor" and it's the best compliment a Cape Breton step dancer can get. Tonight's concert celebrates this unique style with some of the finest dancers of the tradition, backed by just the right players to match. Watch out for some surprises in this special concert at Strathspey Performing Arts Centre in Mabou, produced with the assistance of the Canada Council for the Arts.
Artists
Harvey Beaton
The Pellerin Brothers
The Warner Sisters
Mac Morin
Glenn Graham & Rodney MacDonald & Patrick Gillis
Andrea Beaton & Troy MacGillivray
Ian MacDougall
Kenneth MacKenzie
Dawn & Helen MacDonald
Dawn & Margie Beaton
Jenny MacKenzie
Amanda MacIsaac
Jay MacDonald
Please Note: Artists and events subject to change without notice.