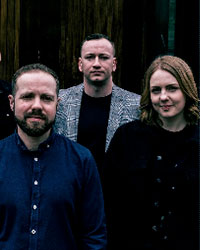 Island Traditions
When
Occurs on Friday October 14 2022
Approximate running time: 2 hours and 30 minutes
Venue
Event Notes
×
Ticket Price: $30 Showtime: 7:30PM
Cape Breton Island, Ireland, and Scotland have many traditions in common, but the one in particular that draws these performers together tonight is the tradition of playing music. Breanndán Ó Beaglaoich was born into a musical family in Ireland and soaked up the music and song of West Kerry from an early age. A major figure in Irish traditional music, Breanndán will be joined by one of the world's finest guitarists and melodeon players, Tim Edey. Fiddler Donna Marie DeWolfe, piano-player Joël Chiasson, and guitarist Chris Babineau have the Cape Breton tradition covered. And Staran is a new collective of some of the most sought-after artists on the Scottish folk scene. While this meeting of musical minds is rooted in Scottish traditional music, you'll notice elements of inspiration from the genres of jazz, minimalism, and experimental electronica in the music as well. One other island tradition worth mentioning, when it comes to Cape Breton and Celtic Colours, is making your way to Festival Club after the concert. St. Ann's isn't really that far from Sydney Mines.
Hosted by St. Andrew's Presbyterian Church
NEARBY MEALS:
Famous Fish and Chips
Artists
Breanndán Ó Beaglaoich & Tim Edey
Donne Marie DeWolfe & Joël Chiasson & Chris Babineau
Staran
Please Note: Artists and events subject to change without notice.