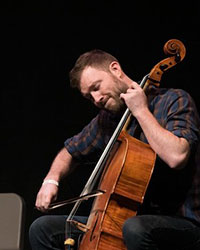 The Grand Finale
When
Occurs on Wednesday October 26 2022
Approximate running time: 2 hours
Venue
Event Notes
×
Ticket Price: $60/50/40 Showtime: 7:30PM
The curtain closes on the 26th Celtic Colours International Festival with a stacked lineup of outstanding players for The Grand Finale in Port Hawkesbury. The concert features performers from Cape Breton, Ireland, England, the U.S., and Scotland. Expect songs in English and Gaelic, tunes played on guitar, accordion, melodeon, fiddle, cello, and piano. You might even see some mixing and matching of players and instruments as many of these folks have played together in various combinations before. And it's safe to say that the finale of this closing concert is going to be one that will linger in the memory for a long time. Tonight's the last chance for Festival Club, so make sure to pace yourself and make the most of this last night of the Festival for another year.
NEARBY MEALS:
Roast Beef Dinner in Grand Anse
Artists
J.P. Cormier
Breanndán Ó Beaglaoich & Tim Edey
Mairi Rankin & Eric Wright
Staran
Please Note: Artists and events subject to change without notice.