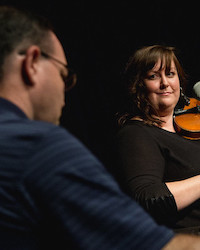 Gathered Together
When
Occurs on Saturday October 7 2023
Approximate running time: 2 hours
Venue
Event Notes
×
Ticket Price: $35 Showtime: 2:00PM
This will be a special afternoon in the cultural haven that is Christmas Island (Eilean Na Nollaig ), when two of the Goidelic languages (Manx and Scottish Gaelic) are gathered together in song, alongside the sounds of Gaelic-infused, Cape Breton fiddle playing at the St. Barra Church & Christmas Island Communities Centre. The venue may be new to the Festival, but the sentiment is as old as the Gaelic culture that runs so deep in the community, where the traditions have been kept up and passed on for generations. Enjoy the scenic drive alongside the Bras d'Or Lake as you make your way to Christmas Island today, where these fine performers from Scotland, the Isle of Man, and Cape Breton will gather together for an afternoon of sharing traditional, Manx, and Gaelic-influenced music and culture.
Hosted by Commun Feis an Eilein
Artists
Rachel Walker & Aaron Jones
Shelly Campbell
Allan Dewar
Ruth Keggin & Rachel Hair
Please Note: Artists and events subject to change without notice.