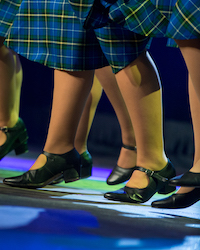 Dancing Up a Suête
When
Occurs on Sunday October 8 2023
Approximate running time: 2 hours
Venue
Event Notes
×
Ticket Price: $35/30 Showtime: 2:00PM
It's no secret that some of Cape Breton's best dancers come from the culturally-rich and vibrant Acadian community of Chéticamp, located along the Cabot Trail. This is where the famous south-east winds, known as les suête, blow strong onshore, and where local dance troupe La Swing du Suête has kept their dance tradition strong for more than 20 years. Today they welcome Cape Breton dancers from the Scottish tradition, including Jenny MacKenzie and sisters Dawn MacDonald-Gillis and Helen MacDonald. Fiddler and singer Rachel Davis and multi-instrumentalist and singer Darren McMullen will be on board for some tunes, along with Quebec's É.T.É., who made their Celtic Colours debut by video in 2020, and the dynamic fiddle and cello duo Jocelyn Pettit and Ellen Gira. Knowing what this concert is all about, there's a fair chance Rachel and Jocelyn might be compelled to put their fiddles down for a few steps themselves before the afternoon is over.
Hosted by Conseil des Arts de Chéticamp
NEARBY MEALS:
Acadian Community Meal
Artists
LÉ.T.É
Rachel Davis & Darren McMullen
Jenny MacKenzie
Dawn & Helen MacDonald
Jocelyn Pettit & Ellen Gira
Please Note: Artists and events subject to change without notice.