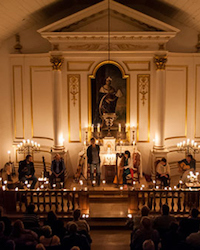 Step Into the Past
When
Occurs on Sunday October 8 2023
Approximate running time: 4 hours
Venue
Event Notes
×
Ticket Price: $135 Showtime: 6:00PM
One of the Festival's most popular concerts invites you to Step into the Past at the Fortress of Louisbourg, North America's largest reconstructed historical site. The Fortress of Louisbourg offers a glimpse at life in colonial Cape Breton around the 1740s, making you feel as though you've been transported back in time evening begins with an authentic 18th-century meal served by candle light in period costume and character. Afterwards, a stroll guided by the glow of lanterns through the cobbled streets of the reconstructed town will lead you to a concert at the enchanting chapel in the King's Bastion. Set against a beautiful candle-lit backdrop, Dublin native John Doyle will transcend time and place with his renowned guitar playing and songs that could have been written yesterday or two hundred years ago. Esteemed Scottish singer-songwriters Rachel Walker and Aaron Jones perform traditional and contemporary songs, and Cape Bretoners Gillian Head and Brian Doyle will add some local flare with fiddle and guitar in hand.
Hosted by Fortress Louisbourg Association
Artists
John Doyle
Rachel Walker & Aaron Jones
Gillian Head
Brian Doyle
Please Note: Artists and events subject to change without notice.