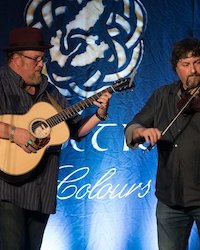 Unama'ki Mawio'mi: a Cape Breton Gathering
When
Occurs on Monday October 9 2023
Approximate running time: 2 hours
Venue
Event Notes
×
Ticket Price: $35 Showtime: 2:00PM
Unama'ki is the Mi'kmaw name for Cape Breton Island, which has been home to the Mi'kmaq since time immemorial. Bringing together Celtic, Mi'kmaw, and Bluegrass music, today's Mawio'mi (gathering ) takes place in the First Nations community of Eskasoni, where the traditions of music, dance, singing, drumming, and storytelling are held in the highest regard. Award-winning Mi'kmaw fiddler Morgan Toney rose to fame during Celtic Colours 2020 and is part of the group Barn Bhreagh, along with Keith Mullins and Isabella Samson, each award-winners in their own right . Multi-instrumentalists and singers J.P. Cormier, who has played the Festival since its debut in 1997, and Ray Legere, a member of the New Brunswick Country Music Hall of Fame since 2016, will bring a smile to your face when your jaw isn't dropped to the floor by their musical mastery. One of the finest pipers in the Cape Breton tradition, John MacLean and his guitar-playing son Cailean MacLean, will light up the stage with their deep connection as both family and musicians. They'll be joined on stage by Glencoe native Kolten MacDonell on piano. This concert will have you bobbing your head and tapping your toes all afternoon!
Hosted by Eskasoni Interact Group
NEARBY MEAL:
Eskasoni Turkey Dinner
Artists
J.P. Cormier
Ray Legere
John & Cailean MacLean
Kolten MacDonell
Barn Bhreagh
Please Note: Artists and events subject to change without notice.