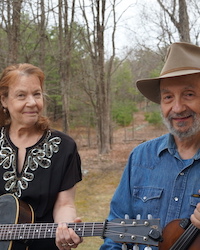 Ashokan Farewell
When
Occurs on Monday October 9 2023
Approximate running time: 2 hours and 30 minutes
Venue
Event Notes
×
Ticket Price: $35 Showtime: 7:30PM
"Ashokan Farewell" is one of those tunes that is so instantly familiar it sometimes gets mistaken for a traditional tune. Perhaps that has something to do with where many first heard the tune, interspersed throughout the soundtrack of Ken Burns' documentary on the American Civil War among a repertoire of music from that era. Or maybe it was Jerry Holland's recording of the tune on his 1992 album The Fiddlesticks Collection that made it so familiar around here. Written in the early 1980s by Jay Ungar, "Ashokan Farewell" is an expression of melancholy that the camaraderie and community of the music and dance camp he ran with his wife, Molly Mason, was ending for the year. It's a fitting sentiment as tonight is Jay and Molly's last show at the Festival this year. And as we bid them a fond farewell, we welcome back Canadian and U.S. National fiddle champion, Shane Cook, who played at Celtic Colours in 2009 and 2017 with Troy MacGillvary. This year he introduces The Woodchippers —a four -member group of multi-instrumentalists, singers, and stepdancers. Troy is here tonight too, and will take the stage with Tracey MacNeil for a bit of a piano summit, backed by guitarist James MacLean. Fiddler Ian MacDougall, from nearby Cape Foot, and fiddle-piano duo Dara MacDonald and Adam Young will round out the tunes for the night.
Hosted by Judique Community Centre Development Association
Artists
Shane Cook & The Woodchippers
Troy MacGillivray
Tracey MacNeil
James MacLean
JayUngar & Molly Mason
Ian MacDougall
Dara MacDonald
Adam Young
Please Note: Artists and events subject to change without notice.