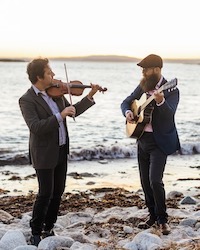 Coal Town Céilidh
When
Occurs on Tuesday October 10 2023
Approximate running time: 2 hours
Venue
Event Notes
×
Ticket Price: $30 Showtime: 2:00PM
On the Atlantic coast of Cape Breton County, New Waterford has long been known for its love of music. Many of the town's settlers came from Ireland and found work in the coal mines established there around the turn of the twentieth century. The collapse of the mining industry in Inverness County in the 1950s prompted many of the county's Scottish descendants to make their way to New Waterford looking for work. With great pride in their Scottish and Irish roots, folks in this former coal-mining community love music and never miss an opportunity to gather for an afternoon of tunes. So, it's only fitting that we should have a little céilidh this afternoon in New Waterford. Join singer Maggie MacInnes, accompanied by Anna Massie and Calum Park, as she enchants the room with Gaelic songs. Fiddler Mckayla MacNeil will fill the church with traditional Cape Breton tunes accompanied by Sheumas MacNeil and Malcolm MacNeil whose roots are in the coal mining town of Sydney Mines. Multi-instrumentalists Décota McNamara and Jeremy Finney complete the céilidh lineup with the irintricate mix of original and reimagined tunes and songs.
Hosted by Calvin United Church
Artists
Maggie MacInnes
Mckayla MacNeil & Sheumas MacNeil & Malcolm MacNeil
Décota McNamara & Jeremy Finney
Please Note: Artists and events subject to change without notice.