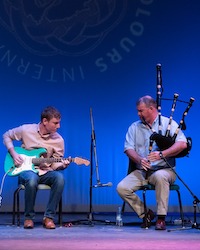 Deep Roots
When
Occurs on Tuesday October 10 2023
Approximate running time: 2 hours and 30 minutes
Venue
Event Notes
×
Ticket Price: $35 Showtime: 7:30PM
Thecommunity ofLowerRiverInhabitantsinRichmondCountyhas deeproots goingbacksome400yearstowhenfolksfromFranceand Acadia first settled in the area in the 1600s. Like the French, Empire Loyalists and immigrants from Scotland and Ireland would come and go over the years since then, but family names from the earliest days can still be found in the area. The performers in tonight's concert also have deep roots—in music, culture, and tradition—that they will draw upon when they take the stage at the Riverdale Community Centre. As multiple award-winning, in-demand musicians, J.P. Cormier and Ray Leger have a few things in common. Among those things are fiddle, mandolin, guitar and a background playing music with deep roots including bluegrass, Celtic, and country music. John MacLean is renowned for his mastery of traditional folk/Gaelic piping, a style that traces its roots back centuries in Scotland and to the earliest Scottish settlers on Cape Breton. His son Cailean shares those roots and has taken a keen interest in the repertoire and Gaelic style of the great masters of former generations. Cailean and Kolten MacDonell will dig into their roots for this evening's performance, accompanying John on guitar and piano. For more than 20 years, Rose Morrison has been planting her own musical roots, and she's planted them pretty deeply performing, touring, and recording professionally since she was 11 years old. The fiddler, singer, and songwriter will be performing tonight with piano and uilleann pipes player Ryan MacNeil who grew up in Sydney Mines surrounded by the music of his family—The Barra MacNeils.
Hosted by Riverdale Community Services Society
NEARBY MEAL:
Traditional Irish Stew
Artists
J.P. Cormier & Ray Legere
Rose Morrison & Ryan P. MacNeil
John & Cailean MacLean & Kolten MacDonell
Please Note: Artists and events subject to change without notice.