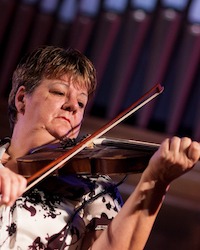 Dancing in the Aisles
When
Occurs on Tuesday October 10 2023
Approximate running time: 2 hours and 30 minutes
Venue
Event Notes
×
Ticket Price: $30/25 Showtime: 7:30PM
While Sundays in church are traditionally reserved for religious reflection, we're thinking dancing in the aisles might catch on as a Tuesday tradition after tonight's concert! With his impeccable timing, Sydney Mines fiddler Brent Aucoin is sure to tempt some to jump up and show their steps. He'll be accompanied by Chéticamp native Joël Chiasson on piano, who has been known to step it off himself from time to time. Robert Deveaux is also from Chéticamp. A fiddler, piano-player, and singer, he is passionate about traditional Acadian song and is considered to be an important guardian of this living tradition. Tonight he's teamed up with Nicolas Boulerice and Olivier Demers from Le Vent du Nord to present a collection of nearly-forgotten songs from Acadian settlers of the Chéticamp area. Coming from a family of well- known musicians—including her mother, Brenda Stubbert, and grandfather, Robert Stubbert—Tracey Bailey has been dancing her whole life. She will join her mother Brenda in this concert and share her unique style of dance, deeply-rooted in the Cape Breton tradition and influenced by the teaching and dancing of others.
Hosted by Our Lady of Fatima CWL
Artists
Nicolas Boulerice & Olivier Demers with Robert Deveaux
Brenda Stubbert & Tracey Bailey
Brent Aucoin & Joël Chiasson
Please Note: Artists and events subject to change without notice.