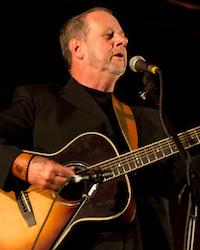 Cow Bay Céilidh
When
Occurs on Tuesday October 10 2023
Approximate running time: 2 hours and 30 minutes
Venue
Event Notes
×
Ticket Price: $35 Showtime: 7:30PM
One could argue that fiddle is fundamental to a céilidh while others might say song is the glue that holds it all together. So, we made sure there was plenty of both mixed in with great story telling and song writing while we're at it. As the late Cape Breton legend John Allan Cameron famously sang, "Songs take on new meaning boys, it's getting dark again." And that is what Celtic Colours is all about, a taste of new and old, honouring the past and preserving the future of Celtic music. How fitting it is then to have the man who wrote that song at the céilidh tonight. Cape Breton icon Buddy MacDonald will be joined by frequent collaborator and good pal Rachel Davis on fiddle for some laughs, and probably a song and tune or two. Mama's Broke draws on diverse influences from old-time, Quebecois, and Celtic traditions to Balkan, blues, punk, and doom metal. With their haunting harmonies and a handful of instruments between them, they'll have you questioning the boundaries of tradition and the constraints of genre. John Wort Hannam and T. Buckley have been writing songs together since 2017 and have just come together in a duo as The Woodshed. They will have you on the edge of your seat as they debut their ensemble at Celtic Colours this year. Their brotherly harmonies, gutsy and sophisticated song writing, and intricate guitar playing is just the thing to complete this céilidh.
Hosted by Port Morien Development Association
NEARBY MEAL:
Ham and Potato Salad Dinner
Artists
Buddy MacDonald & Rachel Davis
Mama's Broke
The Woodshed
Please Note: Artists and events subject to change without notice.