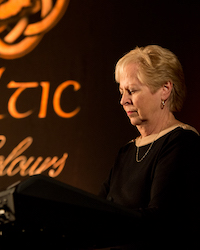 Betty's Key Players
When
Occurs on Wednesday October 11 2023
Approximate running time: 2 hours
Venue
Event Notes
×
Ticket Price: $40/35 Showtime: 7:30PM
For almost 80 years, Ms. Betty Beaton (nee MacMaster) has entertained audiences, and fiddlers too, throughout Cape Breton Island and beyond with her delightful piano stylings and wonderful smile. A masterful pianist who learned by ear, Betty's distinct, flowing accompaniment has been featured on numerous albums and recordings, and her talent has earned international acclaim. Coming from the MacMaster clan, Betty was surrounded not only by the best of Celtic music but by many siblings who also played piano for big brother Buddy. At this concert in the heart of Mabou, family, friends, and admirers come together for an unforgettable experience in this special tribute to Betty Lou Beaton.
Hosted by Dalbrae Student Council
NEARBY MEAL:
Salmon or Ham Dinner
Artists
Betty Beaton
Andrea Beaton
Allison Beaton
Tracey MacNeil
Mac Morin
Jackie Dunn MacIsaac
Joël Chiasson
Mary Elizabeth MacInnis
Sarah MacInnis
Kate Quinn and Tyler Key
Kenneth MacKenzie & Jenny MacKenzie
Harvey Beaton
Glenn Graham & Rodney MacDonald
Patrick Gillis
Please Note: Artists and events subject to change without notice.