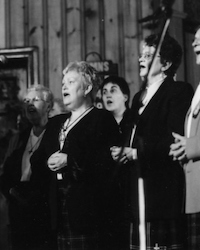 Gaelic in the Glen
When
Occurs on Wednesday October 11 2023
Approximate running time: 2 hours and 30 minutes
Venue
Event Notes
×
Ticket Price: $30 Showtime: 7:30PM
There's a céilidh in the glen tonight and you can be sure that it will be just as steeped in tradition as its surroundings. Glendale is one place on the Island that takes céilidhs to a whole new level. Known for generous hospitality and enduring Gaelic customs, Glendale residents hold their culture in high regard. From céilidhs at the hall to legendary house parties down the road in Kingsville, tonight's concert will be no exception. Harpist and Gaelic singer from Scotland, Maggie MacInnes, will be performing with the wonderful Anna Massie (also of Blazin' Fiddles) and Maggie's son, Calum Park, who both play fiddle and guitar and provide backing vocals. Coisir an Eilein (The Island Chorus) is a beautiful choir that will tug at your heartstrings, adding some traditional Gaelic song to the programme. Fiddler Brian MacDonald will be sharing his extensive musical experience tonight along with one of the most in-demand pianists of our time, Hilda Chiasson. Tonight is your only opportunity to see Festival regulars Derrick and Melody Cameron playing in their sixteenth Celtic Colours this year. Don't miss out!
Hosted by Glendale and Area Community Cooperative
Artists
Maggie MacInnes
Còisir an Eilein
Brian MacDonald & Hilda Chiasson
Derrick & Melody Cameron
Please Note: Artists and events subject to change without notice.