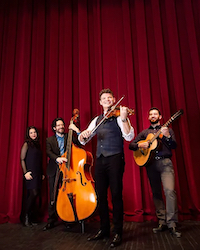 Louisbourg Crossroads
When
Occurs on Wednesday October 11 2023
Approximate running time: 2 hours and 30 minutes
Venue
Event Notes
×
Ticket Price: $40/35/30 Showtime: 7:30PM
A cultural crossroads for centuries, the scenic town of Louisbourg hosts our annual Louisbourg Crossroads concert. When you arrive in the quaint town, you find the sea heavy in the salty air. As you are welcomed in the doors of the town's Playhouse, you're greeted by gracious staff and find yourself in such an intimate venue that it feels like you can reach out and touch the performers on the stage. The Louisbourg Playhouse is the next best thing to a house ceilidh that we can offer, and we promise your kitchen never sounded this good. One of North America's top fiddlers, Shane Cook will be joined by the Woodchippers. Together, they make up an incredible group of multi-instrumentalists, singers, and step dancers. Award-winning pipers Aiden and Cameron MacNeil will be joined by their sister Emma on piano for a blast of tunes, and Celtic Colours veteran Roger Stone will share some songs to round out this evening in the Playhouse.
Hosted by Louisbourg Playhouse Society
NEARBY MEALS:
Louisbourg Roast Beef Dinner
Artists
Shane Cook & The Woodchippers
Roger Stone
Aidan, Cameron, and Emma MacNeil
Please Note: Artists and events subject to change without notice.