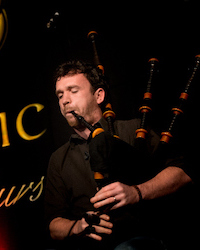 Pipes and Fiddles
When
Occurs on Friday October 13 2023
Approximate running time: 2 hours and 30 minutes
Venue
Event Notes
×
Ticket Price: $35 Showtime: 7:30PM
A small church on a Friday night in the heart of Baddeck. What a place to see these folks! The intimacy of the venue will add so much to the experience of this concert. Being up close and personal—actually seeing the instruments being played, and catching the little smiles and glances back and forth between the players—is one of the things that makes Celtic Colours so special. J.P. Cormier and Jake Lauzon had a chance to catch up in Chéticamp on Wednesday night, but tonight they're teamed up to play together. Their set during the Festival in 2019 was amazing. It will be exciting to see what they come up with this year. With fiddle, clawhammer banjo, and upright bass, old-time/bluegrass trio Lonesome Ace Stringband may not have as much picking to do as J.P. and Jake, but their deep groove, instrumental interplay, and onstage rapport is sure to inspire a few grins during their set. New Brunswick's Les Fireflies bring an authentic kitchen party to the stage. If this trio of award-winning fiddlers, multi-instrumentalists, and singer-songwriters doesn't leave you with a grin on your face, you're on your own.
Hosted by Greenwood United Church Council
Artists
Malin Lewis
Ian MacDougall & Kenneth MacKenzie & Mac Morin & Patrick Gillis
Michael & Tracy Cavanaugh
Please Note: Artists and events subject to change without notice.