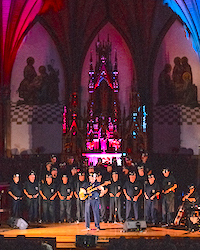 Rita! Rita! Rita!
When
Occurs on Friday October 13 2023
Approximate running time: 2 hours and 30 minutes
Venue
Event Notes
×
Ticket Price: $50/40/35 Showtime: 7:30PM
Rita! Rita! Rita!—three women, one name, generations of influence and inspiration. It may be a strange coincidence that three women from Cape Breton who share the same first name have had such an impact on the heritage of the Island. Or it may be something else. Either way, tonight we celebrate recent Nova Scotia Heritage Day honouree and Mi'kmaw poet Dr. Rita Joe, founder of the Cape Breton Chorale and noted music teacher Sr. Rita Clare, and the beloved songstress and songwriter Rita MacNeil. This year marks the 50th anniversary of the Chorale, and ten years since the untimely passing of Rita MacNeil and while arts and culture in Nova Scotia are forever changed for the better by the paths each led, we recognize more specifically their impact on music and their immeasurable contributions to Cape Breton Island. Be prepared to smile, laugh, and maybe even shed a tear as nine performing acts honour these Cape Breton legends through stories, music, and admiration.
Artists
The Men of the Deeps
Cape Breton Chorale
Morgan Toney & Keith Mullins
Kalolin Johnson
Ryan J. MacNeil & Ewan and Maël MacNeil
Angela MacDonald & Duane Nardocchio
Lawrence Cameron
Please Note: Artists and events subject to change without notice.