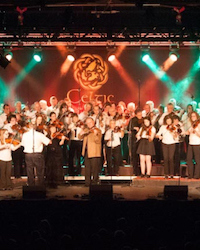 The Cape Breton Fiddlers' 50th
When
Occurs on Saturday October 14 2023
Approximate running time: 2 hours
Venue
Event Notes
×
Ticket Price: $40 Showtime: 2:00PM
Cape Breton Island's rich fiddling tradition will be front and centre this afternoon in St. Ann's as the Cape Breton Fiddlers' Association celebrates their 50th year! On this golden anniversary, the Fiddlers' Association will be sharing the stage with well-respected fiddlers Howie MacDonald and Beverly MacLean, both of whom also play piano. The Fiddlers' Association has been celebrating this significant milestone throughout 2023, with concerts and learning opportunities all around the Island. Made up of up-and-coming as well as professional and well- known players and composers, the Fiddlers' Association has been dedicated to preserving and promoting traditional Cape Breton fiddle music since 1973. The Association has been the grassroots of the fiddle tradition and the keepers of the Island's fiddle repertoire, presenting an annual Festival of Cape Breton fiddling, hosting workshops, and providing opportunities for its members to learn new tunes and techniques. They have been at the forefront of a resurgence in Cape Breton fiddling that has seen the tradition and style flourish at home and around the world. Cheers to 50 more!
Hosted By: Colaisde na Gàidhlig / The Gaelic College
Artists
Cape Breton Fiddlers Association
Howie MacDonald & Beverly MacLean
Please Note: Artists and events subject to change without notice.