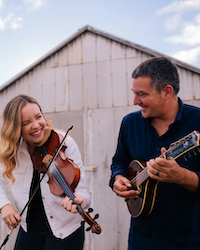 Hometown Céilidh
When
Occurs on Wednesday October 11 2023
Approximate running time: 2 hours and 30 minutes
Venue
Event Notes
×
Ticket Price: $40 Showtime: 7:30PM
Are you ready for a mid-week night out on the town? Or the village, in this case? Of course, in Festival terms, we're past mid-week, and heading into the homestretch. Five nights down, four to go. Seems like a reasonable enough milestone to mark. Why not hit up the Hometown Céilidh for some music and drinks with friends? It truly is a hometown céilidh for fiddler and singer Rachel Davis who was born and raised in Baddeck. Rachel will be in familiar company with Darren McMullen on any variety of stringed instruments and Zakk Cormier on guitar. It's a hometown céilidh of sorts for Keith Mullins too, who settled in Baddeck more recently and built a recording studio in his backyard. He called it Barn Bhreagh Studios, perhaps an homage to the local landmark. The band came together as a kind of travelling singer-songwriter circle when fiddler Morgan Toney and singer Isabella Samson were each working on solo albums with the award-winning producer and multi-instrumentalist at the studio. The hometown crew is excited to welcome the acclaimed Irish trio Breen | Rynne | Murray. Fiddle and flute player Tara Breen performed for the Festival with Nuala Kennedy via video in 2020, and guitarist Jim Murray was here in the early years with Sharon Shannon, but tonight is the first chance to see them in a trio with fellow virtuoso Pádraig Rynne on concertina.
19 & over, photo ID required
Artists
Barn Bhreagh
Rachel Davis & Darren McMullen with Zakk Cormier
Breen l Rynne l Murray
Please Note: Artists and events subject to change without notice.