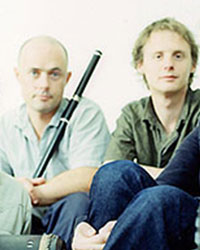 Raising the Roof
When
Occurs on Sunday October 9 2016
Approximate running time: 2 hours and 30 minutes
Venue
Performance Notes
×
Ticket Price: $30 Showtime: 7:30PM
Our popular concert in Boisdale has been raising the roof of the firehall for years now, and we're starting to wonder how much higher it can go. With a lineup including Gaelic vocals, Cape Breton tunes, and the best of Irish music, tonight's show will test the limits once again. The sensational Irish-English foursome of Flook take traditional tunes to new heights. Their fiery blend of two flutes, guitar and bodhran will leave your head spinning. Cape Breton fiddle and piano duo Donna-Marie DeWolfe and Joel Chiasson will share some tunes and welcome John John Festival from Japan. Hugely popular in their homeland, the trio's bodhran player, Toshi Bodhran, visited Celtic Colours in 2014 and was a hit with one and all who saw him play. Arthur Cormack will have you singing along to Gaelic songs new and old. One of the finest Gaelic singers of his generation, we are very happy to have him back with us for our 20th. Keep an eye on that roof!
Hosted by Boisdale Volunteer Fire Department
NEARBY MEAL:
Local Harvest Thanksgiving Dinner
Artists
Flook
Arthur Cormack
Donna-Marie DeWolfe & Joël Chiasson
John John Festival
Please Note: Artists and events subject to change without notice.