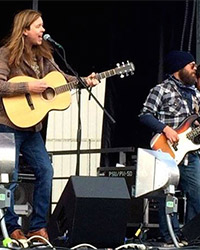 Celtic Cabaret
When
Occurs on Monday October 9 2017
Approximate running time: 3 hours and 30 minutes
Venue
Performance Notes
×
Ticket Price: $40/35 Showtime: 7:30PM
There's no better way to wrap up a long weekend than to get together with friends, watch some fabulous live music, and raise a glass. Tonight's Cabaret offers all that and more with a little something for everyone. Nuala Kennedy, Eamon O'Leary and John Doyle form The Alt and have travelled from all corners of the world to be here tonight to share their Irish ballads, tunes, and songs. Prince Edward Island's Ten Strings and a Goat Skin, whose traditional and original music infused with pop and world rhythms earned them a Juno nomination earlier this year, will surely have your toes tapping. Cape Breton singer-songwriter Jordan Musycsyn's folk-country style and engaging songs will move you from laughter to tears and back again. And Jennifer Roland—fiddler, dancer, and teacher of both—will bring along her full band to lay it all down. There are sure to be a few magic moments and memories made at this Celtic Cabaret tonight.
19 & over, photo ID requiredArtists
The Alt
Ten Strings and a Goat Skin
Jennifer Roland Band
Jordan Musycsyn Band
Please Note: Artists and events subject to change without notice.