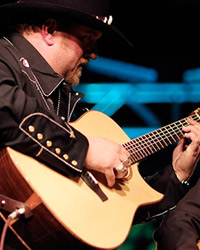 Celtic Guitar Summit
When
Occurs on Thursday October 12 2017
Approximate running time: 2 hours and 30 minutes
Venue
Performance Notes
×
Ticket Price: $35 Showtime: 7:30PM
Oh, what those wooden walls in Judique have heard over our 20 years of Guitar Summits. Number 21 is looking like a house party for the ages and you're invited. But get in the door before it's full, and grab a chair as these multi- talented guitar pickers welcome you to their party. J.P. and Dave go way back. J.P. has looked up to Dave and his playing since day one. Both are masters of picking dance tunes on those six strings. The word hero is not one thrown around lightly, but one certainly ascribed to Ray with his fabulous picking. Alison has shared stages with everyone in tonight's show. Although she's acclaimed as one of today's finest progressive banjo players, it's the guitar she will wield tonight. And Bill Elliott has been known to set the guitar on fire. When he and J.P. start the tunes, watch out for the sparks. And like any good house ceilidh, the good folks of Judique will have the tea on.
Hosted by Judique Community Centre Development Association
NEARBY MEAL: Seafood Choices Dinner
Artists
J.P. Cormier
Dave MacIsaacd
Alison Brown
Ray Legere
Bill Elliott
Please Note: Artists and events subject to change without notice.