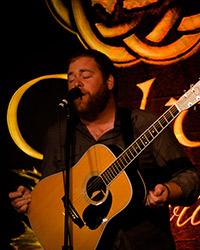 Little Church, Big Heart
When
Occurs on Thursday October 12 2017
Approximate running time: 2 hours and 30 minutes
Venue
Performance Notes
×
Ticket Price: $30 Showtime: 7:30PM
The Greenwood United Church makes a charming little venue, located just off the main street in the middle of Baddeck. The intimate room invites you in and welcomes you as soon as you walk through the doors. This warmth and closeness provides a fitting atmosphere for these performers who hold the music so close to their hearts. Newfoundland singer Matthew Byrne won over our hearts when he performed at Celtic Colours in 2015. His repertoire of traditional songs from both sides of the Atlantic transcends time and place as he weaves great stories with beautiful melodies. Gaelic singer and poet Lewis MacKinnon's performance will leave no question about the heart behind his performance. With two fiddles, piano and guitar, MacIsaac & MacKenzie combine Cape Breton piano playing with a modern approach to Celtic fiddle, while Dara Smith-MacDonald and Adam Young take a more traditional approach to the tunes. Your heart will be full after this show tonight.
Hosted by Greenwood United Church Council
Artists
Matthew Byrne
Lewis MacKinnon
MacIsaac & MacKenzie
Dara Smith-MacDonald & Adam Young
Please Note: Artists and events subject to change without notice.