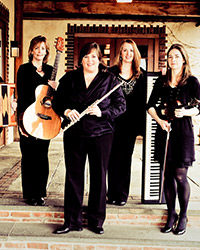 A Full Slate
When
Occurs on Thursday October 12 2017
Approximate running time: 2 hours and 30 minutes
Venue
Performance Notes
×
Ticket Price: $30 Showtime: 7:30PM
In the world of governance and politics, running a full slate for election demonstrates a capacity to attract the talent needed to fill all available positions. More generally, it also refers to a schedule of events. At Celtic Colours, we know A Full Slate means L'Ardoise will have a full agenda tonight. First up, Cherish the Ladies. Featuring flute, whistle, guitar, mandolin, banjo, accordion, fiddle, piano, song and dance, they offer a full slate of instrumental virtuosity all on their own. One of the top Celtic groups in the world, Cherish the Ladies is an Irish- American institution, taking the best of Irish traditional music and dance and sharing it around the world from their homebase in the US. Fellow American Jennifer Williams was born in Kansas but has called the East Coast of Canada home for many years. If you close your eyes, you'll swear she's lived here her whole life by the sound of her fiddle playing. She just loves Joël's syncopated piano stylings accompanying her. And Roger Stone, with roots in Richmond County, fills out the slate with guitar, banjo and vocals. Call to order! This show shall be fun.
Hosted by L'Ardoise Men's Club
Artists
Cherish the Ladies
Roger Stone
Jennifer Williams & Joël Chiasson
Please Note: Artists and events subject to change without notice.