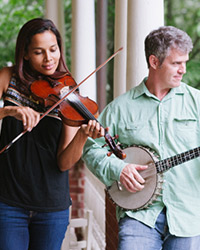 Deep Roots, Many Branches
When
Occurs on Thursday October 12 2017
Approximate running time: 2 hours and 30 minutes
Venue
Performance Notes
×
Ticket Price: $30/25 Showtime: 7:30PM
The Celtic diaspora has many branches, even extending into the furthest reaches of the southern United States. Rhiannon Giddens, of Grammy winning Carolina Chocolate Drop fame, will astound with her deeply soulful vocals, instrumental prowess on fiddle and banjo, and a little Gaelic puirt-a-bheul to top it all off. Paired with Dirk Powell, no stranger to Celtic Colours, their roots music will reach all the way back to the balcony of our venue tonight. Roots run deep with Fergal Scahill and Ryan Molloy and they'll be bringing pure drop Irish fiddle intricacy to the stage. First generation Scot and proudly Cape Breton fiddler Mairi Rankin and her harp-playing Outside Track band- mate Ailie Robertson will bring those haunting Scottish melodies to the forefront. Mairi's best of friends and musical compadres Wendy MacIsaac and Mac Morin will bring the tunes, steps, giggles and smiles that only they can provide.
Hosted by Men's Brotherhood-United Protestant Church of Sydney River
NEARBY MEAL:
Apple Glazed Roast Pork Dinner
Artists
Rhiannon Giddens & Dirk Powell
Wendy MacIsaac & Mairi Rankin & Mac Morin
Fergal Scahill & Ryan Molloy
Rankin & Robertson
Please Note: Artists and events subject to change without notice.