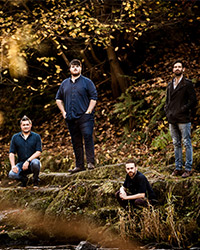 Bridge Over the Atlantic
When
Occurs on Thursday October 12 2017
Approximate running time: 2 hours and 30 minutes
Venue
Performance Notes
×
Ticket Price: $30/25 Showtime: 7:30PM
Countless trips have been made between Scotland, Cape Breton, and back again. The ties between these lands go back centuries to the Scottish Highland Clearances that were largely responsible for populating many areas of Nova Scotia, and especially Cape Breton Island. When those settlers came, they brought their most prized possesions: their culture, language, dance and music. Acting as a bridge over the Atlantic, this concert features a project examining the music of both sides of the pond--the commonalties, the differences, and the tunes we have shared over those many years. Colin Grant and Ewen Henderson lead this cultural exploration that includes concerts in Cape Breton and in Scotland. This bridge also extends to Scottish, Manx and Irish friends Ímar, also featured on stage tonight. Although their first visit to Celtic Colours, you may recognize Tomas Callister and Adam Rhodes from other bands who have played here before. The tunes that traverse back and forth, old country to new country and back again, will fill the Academy tonight.
Hosted by Margaree Area Development Association
Artists
Colin Grant & Ewen Henderson & Ingrid Henderson & Scott Macmillan & Jason Roach & Seonaidh MacIntyre
Ímar
Please Note: Artists and events subject to change without notice.