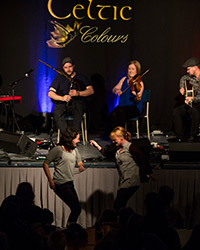 Celtic Pub
When
Occurs on Friday October 13 2017
Approximate running time: 3 hours
Venue
Performance Notes
×
Ticket Price: $30 Showtime: 9:00PM
Celtic Colours has wisely and knowingly been described as a marathon not a sprint, and however well you may or may not have paced yourself this week, the final weekend is here. You deserve a little celebration for making it this far and the Inverary Inn in Baddeck is just the place to make it happen. Settle in to the cozy pub atmosphere and get ready for a night of beautifully sung songs, high-energy tunes and maybe a drink or two. Rhiannon Giddens and Dirk Powell's Appalachian and Cajun-influenced sound combines banjo, fiddle, button accordion, guitar and mandolin for lively tunes and songs from various traditions including Scottish, Irish, Cajun and American Country music. Boston- based fiddler and composer Hanneke Cassel is an exuberant player whose style fuses influences from Cape Breton and the Isle of Skye with Americana grooves. Along with her Trio, Hanneke creates a cutting- edge acoustic sound that retains the integrity and spirit of the Scottish tradition. Ben Miller and Anita MacDonald keep the energy up with pipe and fiddle tunes fit for the pub.
19 & over, photo ID requiredArtists
Rhiannon Giddens & Dirk Powell
Hanneke Cassel Trio
Ben Miller & Anita MacDonald
Please Note: Artists and events subject to change without notice.