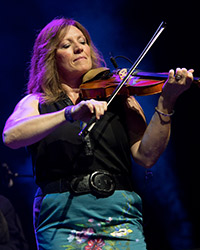 Mhàbu Matinee
When
Occurs on Saturday October 14 2017
Approximate running time: 2 hours
Venue
Performance Notes
×
Ticket Price: $25 Showtime: 2:00PM
One way culture and tradition survive is by being shared in the community and passed down through generations. Mairi Rankin, Mac Morin and Wendy MacIsaac have each benefitted from this traditional transmission of culture as young musicians and performers, and have done their part to pass it on. Margaret Stewart has carried on the traditional Gaelic singing of Scotland's Isle of Lewis, as a performer and a mentor her whole life. This concert is hosted by Comunn Féis Mhàbu, a local organization dedicated to nurturing young traditional musicians and Gaelic singers. It has played a key role in the transmission of the culture and Féis Mhàbu Gaelic Singers will represent some of the ongoing results of these efforts in today's concert, which will also feature Mairi Rankin and her Outside Track bandmate Ailie Robertson on fiddle and harp. Suas leis a Ghàidhlig!
Hosted by Comunn Féis Mhàbu NEARBY MEAL: Roast Beef Dinner
Artists
Margaret Stewart
Wendy MacIsaac & Mairi Rankin & Mac Morin
Rankin & Robertson
Féis Mhàbu Gaelic Singers
Please Note: Artists and events subject to change without notice.