×
Celtic Colours Live • Volume Nine
$25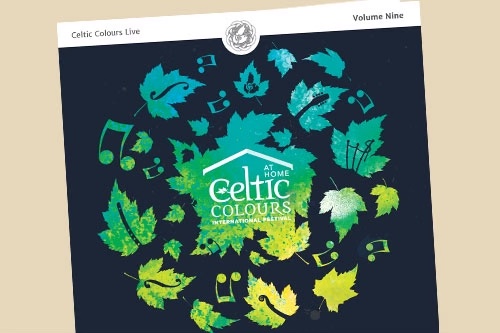 Recorded during Celtic Colours International Festival 2021.
Track Listing: 1. The McDades - The Oak, Ivy and Ash (Jeremiah McDade, Solon McDade, Shannon Johnson) 5:53
2. Capercaillie - Seinneam Cliù Nam Fear Ùr 4:07
3. Rose Morrison with Margie Beaton and Patrick Gillis - The Broomstick Set: The Broomstick / Tonn Chliodhna (Breanndán Ó Beaglaoich) / Man of the House / Matt Peoples' 6:08
4. Lennie Gallant with Mary Jane Lamond, Patricia Richard, and Julien Robichaud – Selkie (Lennie Gallant) 4:36
5. Aerialists - Bodach Innse Chrò / Lads of Alnwick 4:25
6. Joanne MacIntyre and Rita Rankin with Niall, Stephen, and Cameron MacIntyre - An Fhìdeag Airgid 3:01
7. The Lonesome Ace Stringband - American Refugee / Winnebago Man (John Showman, Chris Coole) 4:02
8. Adam Young with Thomas Allen, Emily Dingwall, Colin Grant, Jason MacDonald, Zach MacLean, Boyd MacNeil, and Brad Reid - Forever Young: Reel for Dad [Doug Young's] (Adam Young) / Reel for Mom and Dad [Doug and Freda Young's] (Adam Young) / Reel for Mom [Freda Young's] (Adam Young) 3:42 9. The Gilberts - Frame by Frame (Maisie, Frieden, and Reuben Gilbert) 2:40
10. Rum Ragged - I Didn't Drink the Rum: I Didn't Drink the Rum / All the Way to Connickmore / Jackson's Fancy / Jim Rumboldt's Too 4:29
11. Cassie and Maggie - Roses Around the Bend (Cassie and Maggie MacDonald) 3:34
12. Troy MacGillivray with Mac Morin and Patrick Gillis – Befuddled: The Star Irish Jig aka Traditional Jig in G / When Mud Gets in Your Eyes / Moll in the Wad / Thursday Night in the Caley (Allan Henderson) / Pat and Al's Jig (Liz Carroll) 6:23
All tunes traditional unless otherwise noted. $9.99 flat rate
shipping
for all orders to Canada & USA.