×
Celtic Colours Live • Volume Five
$25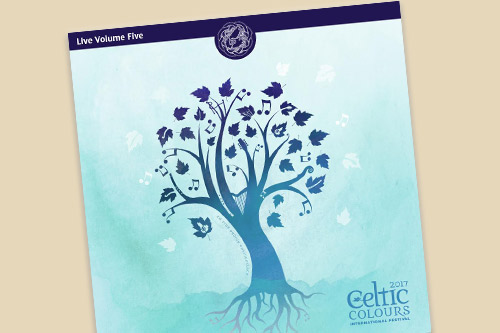 Recorded during Celtic Colours International Festival 2017.
Track Listing: 1. Còig – Franzke en Français: Le Reel de Violon du Monte en Vielle / St. Andrew's Flight (Calum Pasqua) / Dionne Reel / Franzke's Reel (Darren McMullen) 6:24
2. Ùr: The Future Of Our Past – The Waking Hour (David Francey) 3:54
3. Michael McGoldrick, John McCusker and John Doyle – Leaving Uist (Fred Morrison) / Lochaber Badger (Fred Morrison) 5:48
4. Rhiannon Giddens and Dirk Powell – Julie (Rhiannon Giddens) 4:42
5. Dwayne Côté with Michael McGoldrick, John McCusker, John Doyle, and Phil Cunningham – John Wayne Landry's Farewell (Dwayne Côté) 4:19
6. Ímar – Into the Light: Through the Trade (Tomás Callister) / Mean Fouyir (Isla Callister) / The Hairy Dog Leaf 4:11
7. Sarah MacInnis with Mary Elizabeth MacInnis – O Ìosa, Bi 'n Còmhnaidh air M'Aire Gach Uair (Dòmhnall Iain Dòmhnallach) 2:51
8. Paul MacDonald with Brenda Stubbert – Gaelic Air and Reels: Chùir I Glùin Air A' Bhodaich [She Put Her Knee On The Old Man] / A Taste Of The Gaelic 4:01
9. Talisk – Echo: The Hills of Kaitoke (Catherine Fraser) / Aye Right (Angus R. Grant) 8:54
10. Daoirí Farrell – Creggan White Hare 5:18
11. Howie MacDonald with Hilda Chiasson and Dave MacIsaac – A Jerry and Winston Medley: The Lass of Corrie Mill / Trips with David (Jerry Holland) / Miss Grace Menzies (William Marshall) / Compliments to the Browns of Dingwall (Jerry Holland) / The House of Park (William Marshall) / Winston in the '50s / Milburn (Wilfred Gillis) 5:54
12. Colin Grant, Ewen Henderson, Ingrid Henderson, Scott Macmillan – Druim Liaghart (Iain MacFarlane) 2:23
13. Allan MacDonald with Seudan – Piobaireachd Dhòmhnaill Duibh 3:33
All tunes traditional unless otherwise noted. $9.99 flat rate
shipping
for all orders to Canada & USA.