×
Celtic Colours Live • Volume Seven
$25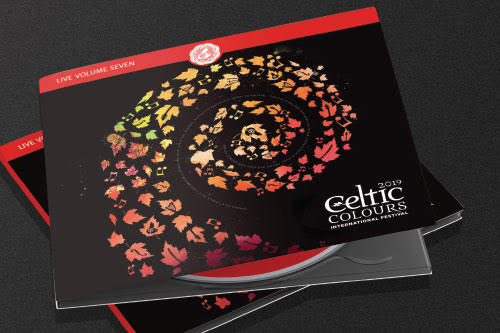 Recorded during Celtic Colours International Festival 2019.
Track Listing: 1. Beòlach and Breabach – Annie's New Heart Jigs: Egypt Road (John MacDougall) / Liz Kelly / Cridhe Ùr Annaig – Annie's New Heart (Allan MacDonald) 5:14
2. The Dardanelles – Boyd's Cove Singles 4:00
3. Julie Fowlis - Camariñas (arranged by Fowlis and Doorley) 4:21
4. April Verch Band – Spider Bit the Baby (Kenny Baker) / Durangs Hornpipe (arranged by April Verch) 2:12
5. The Chieftains featuring Alyth McCormack – Red is the Rose 4:35
6. Kenneth MacKenzie, Kolten MacDonell, and Orianna MacNeil featuring dancers John and Bill Pellerin, Dawn MacDonald-Gillis, and Helen MacDonald - Scotch Four Set: Cairistiona Chaimbeul / Bodach Fodair / Bridge of Bamore / Roddy MacDonald's Fancy (Pipe Major Donald MacLeod) 4:01
7. Kinnaris Quintet – Gortavale Rock (Cathal Hayden and Seán Óg Graham) / Road to Poynton (Robert Harbron) 5:04
8. The Barra MacNeils - Caledonia (Dougie MacLean) 5:25
9. Ùr: The Future of our Past - The Highway North: The North Creek Reel (Jocelyn Pettit) / Tommy's Tarbukas (Alasdair Fraser) 4:37
10. Chartrand Babineau – Benoît / Boudreault: Roaming Scott (Émile Benoît) and Dans les Prisons de Nantes / Set carré / Welcome to Holiday Inn (Émile Benoît) / Gigue à ma marraine Alfreda (arranged by Nicolas Babineau and Alexis Chartrand) 9:26
11. Breabach – Knees Up: Knees Up in Hanoi (Calum MacCrimmon) / Dòchas Glan Na Fàire (Ewen Henderson & Calum MacCrimmon) 4:22
12. J.P. Cormier and Tim Edey – A Mighty Medley: Little Judique Jig (aka Buddy in Big Pond Jig) / Tea Gardens Jig (Angus Chisholm) / Combined Effort Jig (Jerry Holland and Paul Cranford) / Garçon Volage Jig / Poppy Leaf Reel 6:39
13. The Outside Track – Peter's Dream (Lennie Gallant) 4:20
All tunes traditional unless otherwise noted. $9.99 flat rate
shipping
for all orders to Canada & USA.