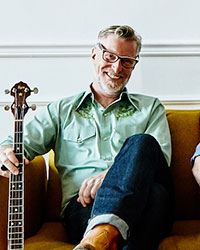 Of Strings and Songs
When
Occurs on Tuesday October 11 2022
Approximate running time: 2 hours and 30 minutes
Venue
Event Notes
×
Ticket Price: $30/25 Showtime: 7:30PM
With a bluegrass trio, a singing, songwriting, step-dancing trad-playing duo, and two songwriters on the bill, we think tonight's line-up covers the bases for strings and songs. This will be our first chance to see Lonesome Ace Stringband live and in person. They performed for the Festival virtually in 2021, and we're excited to have them here on Cape Breton Island this year. An old-time band with serious bluegrass chops, they play some righteous folk and country music, with a depth of groove not often heard in bluegrass today. Sisters duo Cassie & Maggie manage the perfect balance of strings and songs as they seamlessly blend tunes passed down through generations of musicians with their own songwriting, borrowing from other writers, other genres and other eras. Jenn Sheppard is a well-known Cape Breton entertainer who brings a wealth of experience to the stage, and a world of songs. The versatile singer and cast member of popular musical and comedy shows the Cape Breton Summertime Revue and Island Girls, released her first album of her own songs last year. Known as an old-school troubador, Shane Pendergast will bring his six string and his songs of Maritime lore and life experiences over from Prince Edward Island.
Hosted by Our Lady of Fatima CWL
NEARBY MEAL:
Spaghetti and Meatball Supper
Artists
Lonesome Ace Stringband
Cassie & Maggie
Jenn Sheppard
Shane Pendergast
Please Note: Artists and events subject to change without notice.