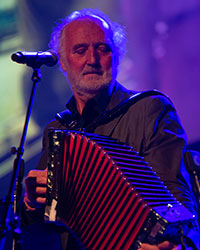 Way Up Down North
When
Occurs on Wednesday October 12 2022
Approximate running time: 2 hours and 30 minutes
Venue
Event Notes
×
Ticket Price: $30 Showtime: 7:30PM
It may sound strange at first, but many locals refer to northern Cape Breton, particularly northern Victoria county, as "down north". The seemingly counter-intuitive term is a leftover from the days of sailing ships when vessels were carried north by the winds of the Gulf Stream. These days we travel mostly by road, and a trip down north will take you along the breathtakingly beautiful Cabot Trail. Whether on the clockwise route north from Chéticamp, or coming through the Ingonish area on the east side of the Island, you will be rewarded with magnificent views of the Cape Breton Highlands and the rocky shore below. Once you arrive at Aspy Bay, on the northern tip of Cape Breton Island, you are in for a real treat with this lineup of talent from Ireland, England, Ontario, and Cape Breton.
Hosted by North Highlands Elementary Home and School
NEARBY MEALS:
Top of the Island Seafood Supper
and
Lobster & Crab Supper
Artists
Breanndán Ó Beaglaoich & Tim Edey
Lonesome Ace Stringband
Delores Boudreau Trio
Please Note: Artists and events subject to change without notice.